Molly Louise Shepard is a published dramatic author, Off-Off-Broadway playwright and produced screen writer.
Molly's two act Southern Gothic piece, TABULA RASA went Off-Off-Broadway as produced by Judith Shakespeare Co., NYC at the Phil Bosakowski Theatre at the Primary Stages in New York City. "The lyricism and spirituality of TABULA RASA resembled an August Wilson play" says the OFF-OFF-BROADWAY REVIEW. The DALLAS EXAMINER says of Molly and TABULA RASA, "She's a Southern Gothic writer, reminiscent of Faulkner...[Mary] Beth Henley; and Tennessee Williams. In great company. Molly Louise Shepard has truly written a 'gem'." An excerpt from Molly's short play, DOG is published internationally in BEST MEN'S MONOLOGUES OF 1998, Smith & Kraus, Inc. (6/99.) Molly's screenplay of that same piece, DOG, won a grant from ICTN, and then later went to the USA Film Festival and was featured on PBS (Dallas).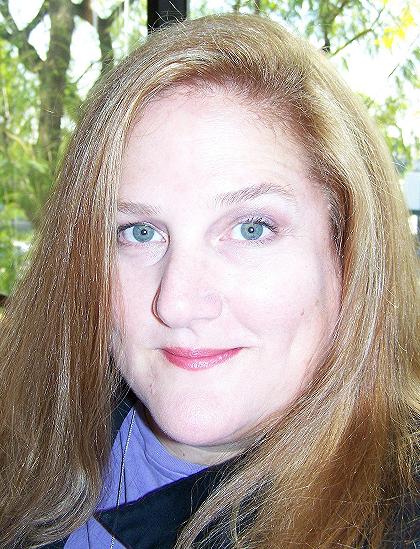 Molly received her B.A. in Theatre from The University of Texas at Dallas, graduating in three years on the Dean's list, when she was only 21. Molly's work has been produced in Dallas, Fort Worth, Austin, and New Orleans. Molly's work has received wonderful reviews and notices in: THE AUSTIN CHRONICLE; THE AUSTIN AMERICAN-STATESMAN; THE DALLAS MORNING NEWS; THE DALLAS OBSERVER; THE DALLAS TIMES HERALD; THE FORT WORTH STAR TELEGRAM; THE NEW ORLEANS CLARION HERALD; THE NEW ORLEANS TIMES PICAYUNE; THE DAILY NEWS; AMERICAN THEATRE, and others.
References and reviews available upon request.
Update! Fall of 2007, Molly has been offered a book deal with a trade publisher. More details to follow!
---
What have they been up to?
Molly moved with her family to Los Angeles a week after 9/11. In 2003, she married Dan Berke. Molly has been the Developmental Editor for the Autumn Leaves' DESIGNING WITH and QUOTE, UNQUOTE books for five years. March of 2008, she is beginning a new editorial position with a major publisher. (In the 90s, Molly was Senior Photo Editor with Harcourt Brace. Prior to that she was a Permissions Correspondent for Holt, Rinehart and Winston.) Molly and Dan live near the beautiful Toluca Lake area, a stone's throw from the Disney, Warner Brothers, DIC and Nickelodeon Studios. Recently, Molly became a member of the Unknown, and is enjoying delving into her playwrighting. She is re-examining some of her early works, and concurrently writing a ghost story regarding the mysterious death of Thelma Todd, and has finished Act I. She has also begun to write a musical. Molly signed a book deal with a trade publisher, more information about that publication coming out fall of 2008. Molly has written the first draft of a children's book. All this done in all her free time in her off hours, of course!
Molly's daughter Madison is also a professional theatre person in Los Angeles. She has worked at several major theatrical venues in Hollywood, both as an actress and a technical person, but also in contracts, as well. Madison also went to London and Paris for a month February of 2006. Spring of 2007, she settled happily into her own groovy little bachelorette pad in L.A. By the audition process, Madison got into a major drama school in London, and will move to England in the fall of 2008! Post 9/11, Madison attended the Los Angeles County High School for the Arts. While in high school, Madison also was a peer facilitator for teen outreach in the runaway community in Hollywood for L.A. Shanti for several years. She also was Winter Formal Princess for her High School her freshman year. Madison is an indie film maker in her own right, in 2001, her film, BLACK LIPSTICK was shown at the Long on Shorts at the Horchow at the Dallas Museum of Art, as well as at Vistas and the Deep Ellum Def2 Film Festival in Dallas. Spring 2006 Madison visited London and Paris. She attended Central School of Speech and Drama in London in 2008 and 2009. At present, she's back in Los Angeles, pursuing her acting career.
---
We would love to know you visited: Molly Lou's Guestbook


E-mail: mollylou12@gmail.com


Los Angeles, California, United States

(Website updated: 07/06/07. Contact by email for information on past webpages and links.)

Interesting fact: Through her paternal Grandfather, Corey Bone Shepard, Molly is a decendent of the de Bohun line, French aristocracy...who later changed their name to Bone as they migrated to England, Scotland, Ireland, and then finally, America. Check out these interesting books about the family:

The History of Bone Family of America.

Are you a de Bohun? You can buy the books now, too!

(Want more info. about the de Bohuns? Go here!)
---
Photography/content for this page copyright (c) 2007 by Molly Berke.

Quote du Jour: Always forgive your enemies - nothing annoys them so much. - Oscar Wilde
---
Fun facts: Molly is a fifth generation, native Texan. Molly went to high school with Rick Linklater. Molly's grandmother was born in Archer City, Texas, the site of the "Last Picture Show" theater. Molly's play, TABULA RASA was shown in excerpt for a fund raiser to rebuild the actual "Last Picture" show theater in Archer City in the late 1990s. Molly's daughter Madison's father is film actor SaMi Chester (CONTACT, et al.)
---
Special Update: In a past life, Molly was a Jazz singer...
check it out!
GUESS WHAT? Molly has a brand new webpage! (Or two...)
---
CURRICULUM VITAE - MAJOR WORKS OF LITERATURE READ (Partial)

FICTION:

DANTE'S INFERNO

THE ILIAD

THE ODYSSEY

THE PROPHET

WUTHERING HEIGHTS

WASHINGTON SQUARE

MOLL' FLANDERS

FRANKENSTEIN

ANNA KARENINA

CRIME AND PUNISHMENT

JANE EYRE

COUSIN BETTE

PRIDE AND PREJUDICE

OF HUMAN BONDAGE

LOVE

DAVID COPPERFIELD

OLIVER TWIST

OLD MAN AND THE SEA

TORTILLA FLAT

CANNERY ROW

GRAPES OF WRATH

GONE WITH THE WIND

INSIDE DAISY MILLER

THE SUN ALSO RISES

TO KILL A MOCKINGBIRD

THE GREAT GATSBY

TROPIC OF CANCER

TROPIC OF CAPRICORN

CATCHER IN THE RYE

100 YEARS OF SOLITUDE

THINNER

MISERY

LONESOME DOVE

THE COLOR PURPLE

THE THORN BIRDS

ORIGINAL SIN

THE VAMPIRE LESTAT

INTERVIEW WITH A VAMPIRE

DUNE

...and others...
---
CHILDREN'S LITERATURE READ:
THE COMPLETE WORKS OF LEWIS CARROLL
THE COMPLETE WORKS OF A.A. MILNE
AMERICAN GIRL – ADDY COLLECTION
THE COMPLETE WORKS OF LAURA INGALLS WILDER
WHERE THE WILD THINGS ARE
SELECTED WORKS OF TOMMY PAOELA
THE DIARY OF ANNE FRANK
PHANTOM TOLLBOOTH
THE HARDY BOY AND NANCY DREW MYSTERIES
THE COMPLETE WORKS OF DR. SUESS
...and more...
---
PLAYS:
OEDIPUS
CLEOPATRA
ANTIGONE
MOURNING BECOMES ELECTRA
AGAMEMNON
THE FROGS
THE BACCHAE
TROJAN WOMEN
CALIGULA
FLEA IN HER EAR
EVERYMAN
THE MISANTHROPE
HAMLET
ALL'S WELL THAT ENDS WELL
THE TEMPEST
RICHARD II
RICHARD III
MIDSUMMER'S NIGHT DREAM
MACBETH
ROMEO AND JULIET
TAMING OF THE SHREW
HENRY IV
THE BALD SOPRANO
THE IMPORTANCE OF BEING ERNEST
TIME OF YOUR LIFE
THE MADWOMAN OF CHAILLOT
PEER GYNT
MISS JULIE
GHOSTS
THE SEA GULL
THE CHERRY ORCHARD
LA RONDE
MAN AND SUPERMAN
MAJOR BARBARA
THE TYPEWRITER
WAITING FOR GODOT
MOTHER COURAGE AND HER CHILDREN
GOOD WOMAN OF SETZUAN
THE BOYFRIEND
THE TWO CHARACTER PLAY
NIGHT OF THE IGUANA
STREETCAR NAMED DESIRE
LONG DAY'S JOURNEY INTO NIGHT
END GAME
NO EXIT
ORPHEE
BLOOD WEDDING
THE EMPEROR JONES
THE BLACKS
LOOK BACK IN ANGER
INHERIT THE WIND
THE ICEMAN COMETH
THREE PENNY OPERA
THREE SISTERS
GHOST SONATA
J.B.
OKLAHOMA
EQUUS
WHO'S AFRAID OF VIRGINIA WOOLF?
GLASS MENAGERIE
DEATH OF A SALESMAN
THE FALL
AFTER THE FALL
BUS STOP
STAGE DOOR
A RAISIN IN THE SUN
TO BE YOUNG, GIFTED AND BLACK
KENNEDY'S CHILDREN
COME BACK TO THE FIVE AND DIME...JIMMY DEAN...
COMPANY
TRUE WEST
FOOL FOR LOVE
BABY WITH THE BATHWATER
CURSE OF THE STARVING CLASS
THE FOREIGNER
CRIMES OF THE HEART
'NIGHT MOTHER...to name a few...
---
SHORT STORIES:
THE RED PONY
A ROSE FOR EMILY
---
SCREENPLAYS:
PULP FICTION
POETRY:
SHAKESPEARE'S SONNETS
COLLECTED WORKS OF GWENDOLYN BROOKS
AND STILL I RISE -- MAYA ANGELOU
COLLECTED WORKS OF BYRON, KEATS, SHELLY, TENNYSON
LEAVES OF GRASS
ANCIENT MARINER
THE BONE RING
SELECTED AND VARIOUS POEMS BY: RICH, ENDO, CUMMINGS, COWPER, ATWOOD, SAGEL, GREENBURG, CASSITY, BUKOWSKI, SEXTON, HARDY, PLATH, CRANE, ORTIZ, HARDY, FROST, QUINTANA, CREELY SPENSER, AUDE, ST. VINCENT, MILLAY, FLANDERS, BROWNING, POUND, BERGER, NICKERSON, HEANY, BASHO, WRIGHT, TOOMER, OWNE, PIERCY, DONNE, GINSBERG, COLERIDGE, MOMADAY, HERRICK, NASH, CULLEN, et al.
---
NON FICTION:
CHARIOTS OF THE GODS
HENRY AND JUNE
THE BIBLE
THE MEMOIRS OF ANAIS NIN
BIOGRAPHY, TENNESSEE WILLIAMS
BIOGRAPHY, NELL GUINN
DOWN THE SANTA FE TRAIL AND INTO MEXICO
SPIRITS IN AMERICA
LEGENDS: THE LIFE AND DEATH OF MARILYN MONROE
GARDENER'S ART THROUGH THE AGES
CULTURE OF NARCISSM
EVOLUTIONARY ANTHROPOLOGY
LONE STAR
C'EST LA VIE
LITERATURA Y CULTURA
ZELDA
MARLENA
CHAPLIN
MOMMY DEAREST
HOLLYWOOD BABYLON, I & II
HAUNTED HOLLYWOOD
HOLLYWOOD HAUNTED
CITIES AND IMMIGRANTS
EDIE
...and more
Thanks for the visit!
Molly
---
Main page: http://mollylou.tripod.com

Phone: 568-2009
---
mollylouiseshepard@hotmail.com

United States
---